When we do something, there always have some priorities in our mind. Even we didn't feel it, but it existed.
It's the same when buying concrete grinding discs.

When we are buying something, it represents that there are some requirements we want to be solved. So, What are the requirements should be? Let's have a look.
What do the requirements consist of?
The final requirement is to get this product we want. However, after researching deeply, we can decompose it to some other elements: price, quality, delivery time, services, and others.
About the Priority Queue
Different types of customers have various features, and they have different preferences for the above four requirements. We can classify the customers into two types: Resellers and End-Users.
| | | |
| --- | --- | --- |
| Priority queue | Resellers | End-Users |
| 1 | Quality | Price |
| 2 | Price | Quality |
| 3 | Delivery Time | Delivery Time |
| 4 | Services | Services |
Above is the current priorities I listed. It would help if you had your preferences in your mind, no matter you are a reseller or an end-user because everyone's situation is different. For example, if you are a dealer and already have signed a contract with your customer and it shows an exact delivery time, which is very close. It would be best if you treated the delivery time as the priority.
What's more, you can add some other requirements to the priorities based on your demands, like payment terms.
Where to buy concrete grinding discs?
Let's back to the first question – where to buy concrete grinding discs?
If you input "where to buy concrete grinding discs" on Google search engine index box, the SERPs will show like this: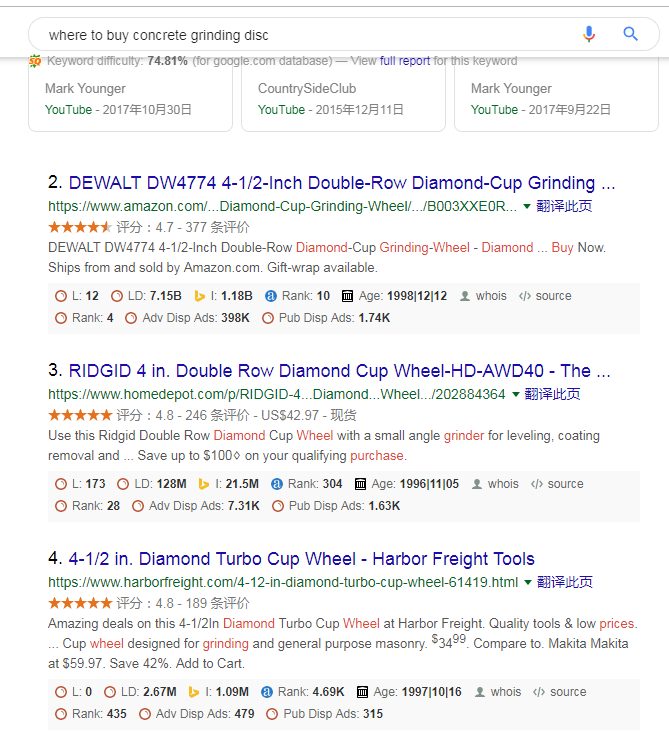 Most of the top 10 organic search websites recommended by Google are the B2C websites, such as Homedepot, Harborfreight, Lowes, eBay, Amazon, etc. Because Google thinks that you are an end-user of concrete grinding discs in the USA (I searched with an IP of the USA).
However, maybe the results are not what you want, and Google misunderstood you. Creating a priority of your requirements before buying concrete grinding disc will guide you to find the right products and suppliers.
If you want to buy a high-quality concrete grinding disc with competitive price, manufacturers from China like SUNNY SUPERHARD TOOLS is the right choice. We know that in the past, the impression of Made-In-China is not good; it represents fake and low quality. However, now, it is not the same; the situation has been improved a lot.
As an expert of concrete grinding disc, Sunny Superhard Tools is specialized in researching & developing excellent diamond segments. We have developed various diamond segment formulas to fit different hardness of concrete, like soft concrete, hard concrete, medium-hard concrete, etc. Our concrete grinding discs are very popular in the US, Canada, Australia, New Zealand, and other countries. We got lots of good feedback from them. "Quality is our culture" – we insisted on providing our customers with our high-quality and competitive diamond tools.
Why choose SUNNY SUPERHARD TOOLS?
Reliable quality
Sunny Superhard Tools is established in 1993. We mastered great formulas of diamond segment for different materials (such as concrete, granite, and marble), which is very important for a diamond tool. As one of the most professional manufacturers of concrete grinding disc, we R&D all kinds of premium concrete grinding discs to fit different grinders, like HTC, Lavina, Husqvarna, Klindex, PHX, MK, etc.
Competitive price
Sunny Superhard Tools is a manufacturer specialized in concrete grinding tools. We do not cut down the cost by using the low quality of materials but in other ways.
We have our premium suppliers of artificial diamonds, who can supply us premium synthetic diamonds with competitive price
We optimize the production flow to save the cost from the labor cost (Automatic soldering for round concrete grinding pucks)
Other ways
Fast delivery
Delivery is an important thing SUNNY SUPERHARD TOOLS treated. We lay in some popular concrete grinding discs to fasten the delivery time. Most orders can be delivered within 7-15 days.
Small orders are available.
For the concrete grinding disc, there are lots of customers(end-users) who want to place a small order and then renew it when the discs are going to be exhausted. We also want to do business with them and establish a long-term relationship with them. They are also essential to us. The feedback data from them is precious and guide us to make the concrete grinding disc better and better.
Custom Made is available.
If you want to customize the concrete grinding disc, that's available. Most of the customizing are free, for examples:
Engraving your logo on the disc.
Design the concrete grinding disc according to your requirements(we have three engineers and can make the drawing to you for free).
Optional payment ways to choose from
There are lots of different payment ways supported by SUNNY SUPERHARD TOOLS:
T/T

Westunion

Paypal

Wechat

Cash

For big orders, L/C can also be considered.
Can I have a look of SUNNY SUPERHARD TOOLS online?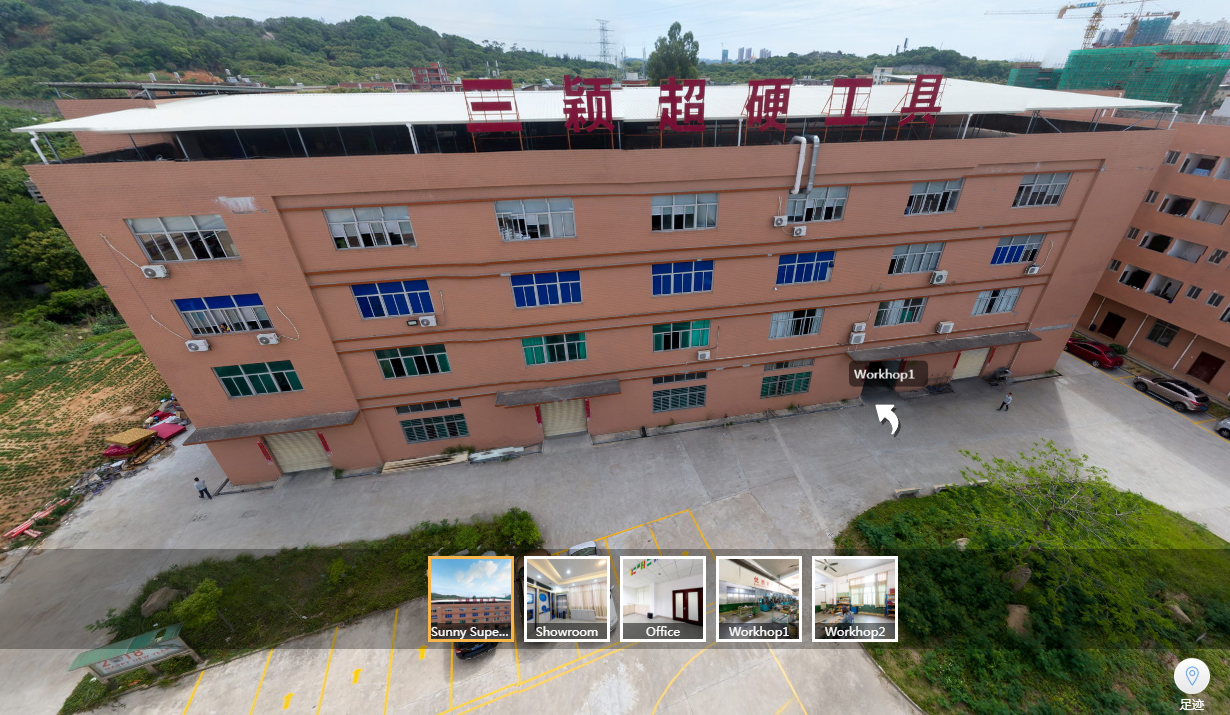 Of course, yes! To let our customers know our factory in minutes, we created a 360-degree panorama page. You can look at our factory online through this link below:
Check SUNNY SUPERHARD TOOLS Factory Online
Have fun with your journey!
Write your message here and send it to us
---
Post time: Jun-18-2019