1/2 Gas Thread CNC Diamond Finger Bit For Grinding Granite Marble
Product Detail
Product Tags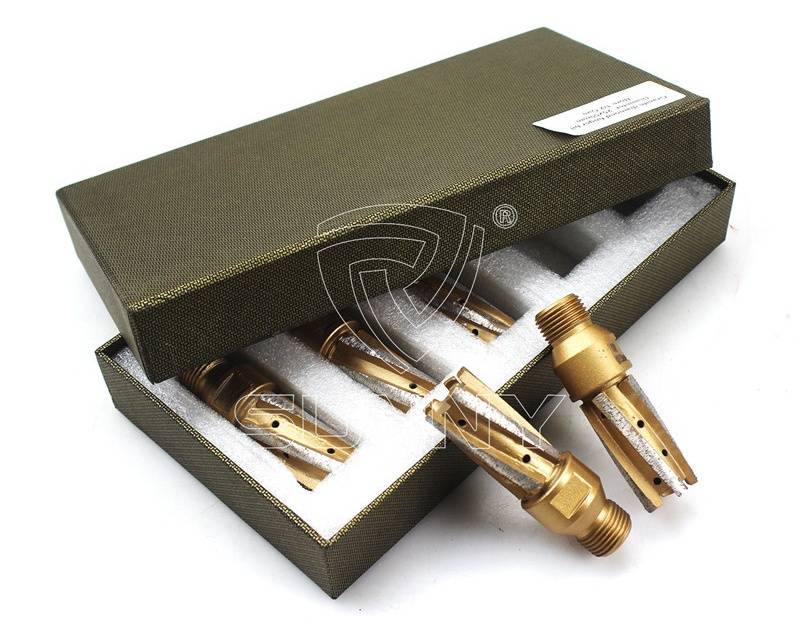 Diamond finger bit fit is usually used on the CNC machine for cutting the edge or drilling holes of the stone slabs (sink cutout). Different stones have different hardness, so the segment formula of the diamond finger bit should also be different.
Sunny Superhard Tools developed great segment formulas for different stones. We have two types of CNC finger bits: normal type and enhanced type. The connection is usually 1/2 gas thread. The shank type is also available.
2 Different Types of Diamond Finger Bits
Sunny Diamond Finger Bit List:
Finger Bit Type
Diameter
Working Length
Connection

mm

mm

Normal Segment

φ22

L40

1/2" Gas Thread, 

Shank

L50

L60

φ25

L40

L50

L60

Enhanced Segment

φ22

L40

L50

L60

φ25

L40

L50

L60
| | |
| --- | --- |
| Name | 1/2 Gas Thread CNC Diamond Finger Bit For Grinding Granite Marble |
| Type | Regular Type |
| Application | For wet drilling granite, marble and other stones |
| Applied Machine | CNC machines |
| Outer Diameter | 25mm |
| Working Length | 50mm |
| Connection | G 1/2" |
| Net Weight | 0.22kg |
| Packing | 5 pieces per box |
| Payment Terms | T/T, Western Union, Paypal, Wechat, Credit Card, Cash, L/C |
| Place of Origin | Quanzhou, Fujian, China |
| Shipping Port | Xiamen Port (other ports are available) |
Packing of Diamond Finger Bit
Diamond Tools to Be Packed
Hard Box with PE Foam Inside
Hard Box with Foam Inside
Quantity: 5 pieces per box
What our customers are saying of our diamond tools...
Hi Miley- yes we didi test them this weekend. The concrete we were grinding this weekend was super hard and the diamond segments held up pretty good. We had to add more weights to our machine mostly do to the large surface on the segments that's why we went to the new ones you guys just shipped out.I will leave a good review on your website.Thank you.
Customer from United States
Dear Alvin,
We have stoc from our old supplier but we tried all your tools. They look really great and our first impression is that your tools are perfect. We will see what will happened on long run but as I see your tools they are great.We will look also to some other products from your range and we will prepare another little order this days. technically all the tools look great. Thanks
Customer from Turkey
Hi Jane
i recieved the blades and we tested them out today and they are the best we have ever used in our 25 years in the concrete sawing busines
Customer from Australia

Привет мой друг
Вот такая красота получилась,
при работе вашим расходникомметалл/резинки!
Customer from Russia
Hello!
We tested the #16-20 grit diamond tools, and they work excellent!!
I would like to order some more tools, 6×12 pieces=72 pieces more (SYF-B02 shape)
Could you please send me a proforma invoice, so I can pay it in advance, Thank You!
Best wishies,
Customer from New Zealand

Why Choose Sunny Superhard Tools?
Reliable quality, competitive price, quick response, fast dlivery, OEM/ODM service and more.
As a professional and experienced diamond manufacturer since 1993, Sunny Superhard Tools insisted on providing the best quality of diamond tools to our customers.
Fast delivery is very important for recovering the investment. Sunny Superhard Tools provide fast delivery service to benefit our customers. Small orders can be delivered within 7-15 days.
Sunny Superhard Tools is continuously finding different ways to reduce the price without sacrificing the quality, and make our diamond tools competitive when compared with others.
In the past few decades, Sunny Superhard Tools has made many orders of the OEM/ODM successfully. Some of the OEM/ODM services are free of charge!
Our teams is professional and the members have good study of the diamond tools. We offer quick response. Each messege or email will be replied within 24 hours.
There are lots of different payment ways supported by Sunny Superhard Tools:T/T, Westunion, Paypal, Wechat, and Cash. For big orders, L/C can also be considered
Frequently Asked Questions
For the bush hammer scratching roller, we have designed two different types: one is the carbide type, and the other is the PCD type.
Here is the guide to choose the right scratching roller:
1. For scratching soft stones(such as marble), please choose carbide type.
Why?
Because the hardness of carbide teeth is not such high for scratching hard stones, but it is enough for scratching soft stones. 
Besides, the carbide teeth are much more competitive compared with PCDs.
2. For scratching hard stones(such as granite), please choose the PCD type.
Why?
Because the PCD has a very strong hardness, wear-resistance, and it works well on the hard stones.
It can also be used for soft stones. But in that case, it's not economical.
Yes, Quanzhou Sunny Superhard Tools Co., Ltd was established in 1993, and we are a professional and experienced diamond tools manufacturer in China.
Compared with traders, we have the following advantages:

1. The quality of diamond tools is guaranteed.
Sunny Superhard Tools uses high-quality materials and advanced production technology, as well as the strict inspection system to ensure the high & stable quality of our diamond tools. While for other diamond tools trade companies, the quality of diamond tools maybe not stable, as they some times will deliver you the same diamond tools but from different suppliers.

2. Much more competitive price.
Our diamond tools are much more competitive than the trading companies. Because we sell our products directly to our customers, but the trading companies will take extra profit. What's more, for our agencies, we offer unexpected price to make win-win cooperation and establish a long term business relationship.

3. Faster delivery.
Fast delivery is also very important for buyers. For end-users, it means that they can use diamond tools as early as possible. For resellers, it means that they can sell the diamond tools and recover their investment as soon as possible. Unlike the trading company, the manufacturer doesn't need to communicate with other suppliers to make orders again. We can place the production order immediately and make & delivery your diamond tools as fast as possible.

4. OEM/ODM services are welcome.
As an experienced diamond tools manufacturer since 1993, we have received lots of different customized diamond tools order from customers all around the world, such as the very long diamond core drill bit, the bush hammer plate, the diamond grinding shoes, the diamond segment, the diamond saw blade, and etc. The professional R&D department makes it easy to OEM/ODM diamond tools. While for trading companies, they are more likely to accept the standard diamond tools, and OEM/ODM service is usually unavailable.

5. Small orders are available.
For Sunny Superhard Tools, end-users of diamond tools are also very important. Because end-users can give us feedback about our diamond tools and this information is very important for us to improve our diamond tools in the future. We're always listening to our customers' suggestions, collect the data of our diamond tools, and keeping developing better diamond tools.

6. Our sales are much more professional in diamond tools than trading companies.
For Sunny Superhard Tools, all of our products are diamond tools or related machines, while trading companies maybe have many different types of cross-industry products. We are more professional and can help you to find the ideal diamond tools for your market(for resellers) or project(for end-users).
No, we definitely won't sacrifice the quality to make a lower price. There are some ways we do to make much more competitive diamond tools:
1. To increase the productivity of our diamond tools, such as optimizing the production flow of diamond grinding pucks as follows:
2. To find the right suppliers of product materials
3. To find good agents for lower shipping fees
4. To reduce other unnecessary costs
The lead time is different for different orders.
For small orders, the lead time is only about 7-15 days.
For medium and big orders, our sales will confirm with you about the lead time when the order is confirmed.
The fast delivery is one of our advantages, and Sunny Superhard Tools delivers diamond tools faster than most companies.
Sunny Superhard Tools provides flexible payment methods to our customers, including the following payment ways:
1. T/T, 100% in advance.
2. Western Union
3. Paypal
4. Wechat
5. Trade Insurance order on Alibaba (Support credit card).
6. Cash
Note: Generally, we accept the currency of USD/RMB only.
Download Our Latest Diamond Core Drill Bit Catalogs
Want more types of diamond core drill bits? Download our latest catalogues...
---
---
Previous:
OEM/ODM China 75mm Diamond Core Drill Bit - 8 Inch Concrete Hole Saw For Drilling Reinforced Concrete – Sunny Superhard Tools
---
Write your message here and send it to us